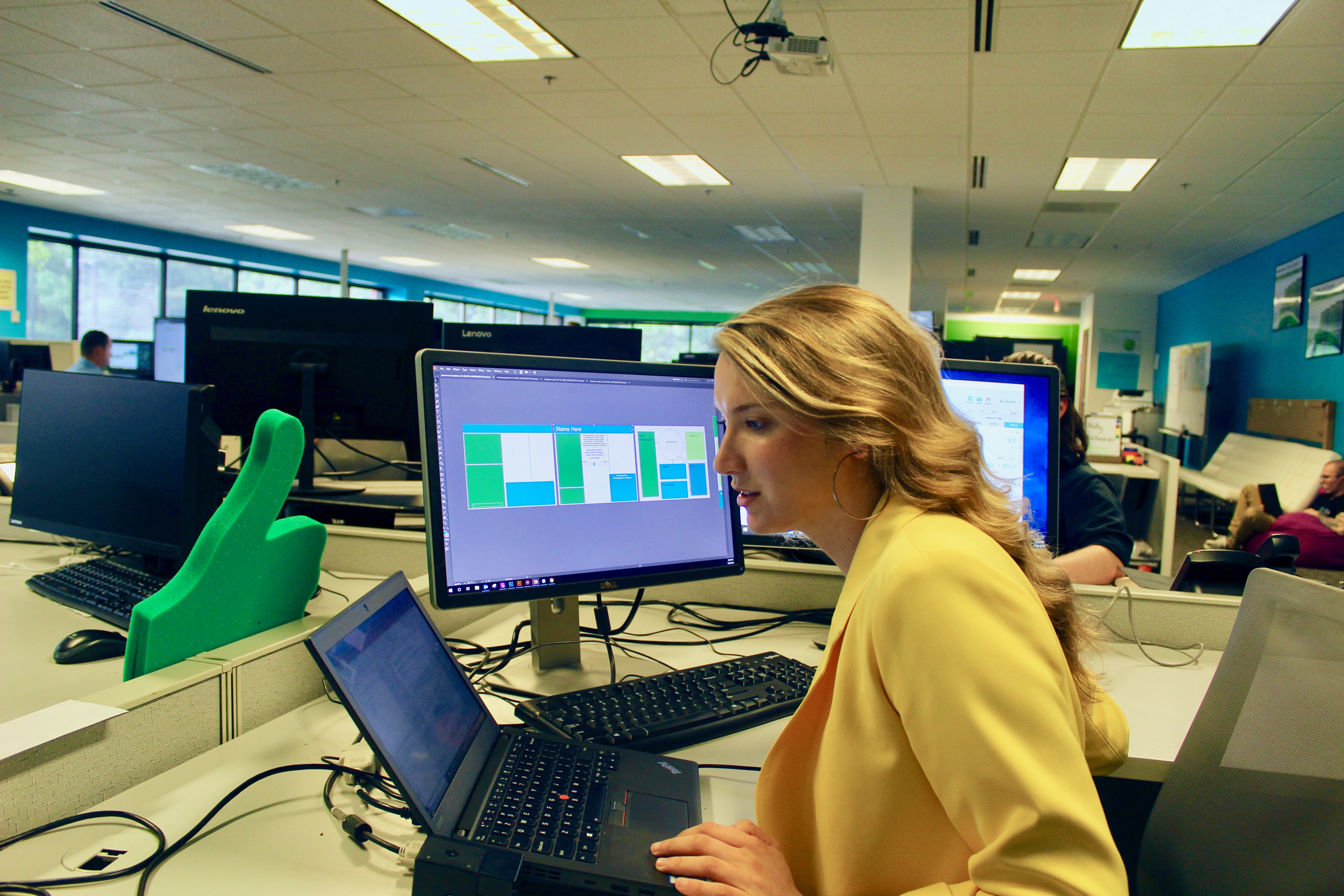 In the summer of 2018, I worked as a UX intern at Relias in Cary, NC. As an intern, I created a UI style guide, worked towards developing user personas, created wireframes/mock-up prototypes, reached out to clients and conducted user interviews, researched agile UX processes and remote user testing options, participated in a presentation to the Product Leadership Team proposing a new Agile UX workflow, and collaborated in brainstorming, editing, and producing an "intern video." For confidentiality reasons, I have chosen not to include the mock-up prototypes or video in my portfolio. Other work I completed during my internship can be seen below. 
One of my first projects as an intern was to create a "UI style guide" that would allow for more consistency in future designs. I evaluated the platform's current design and colors, finding that many of the colors used did not meet Web Content Accessibility Guidelines (WCAG). In my style guide, I suggested color usage standards in order to implement more accessible designs. I also slightly tweaked two of the brand colors to be a slightly darker shade in order to have enough contrast against a white screen and meet WCAG standards. Lastly, I suggested changing the platform's paragraph font from "Arial" to "Georgia" and from black to a dark grey for easier readability. 
PLEASE NOTE:
The "Assets & Buttons" Page of the UI Style Guide was left out for company confidentiality reasons.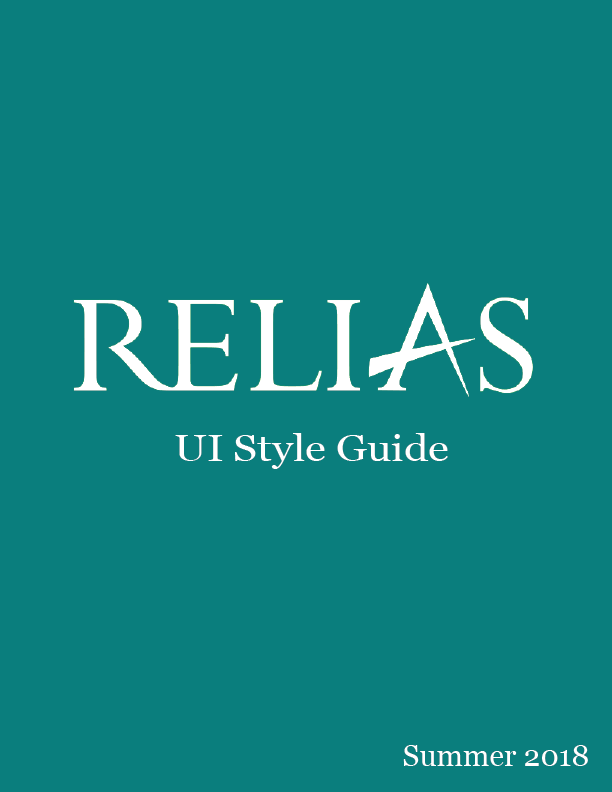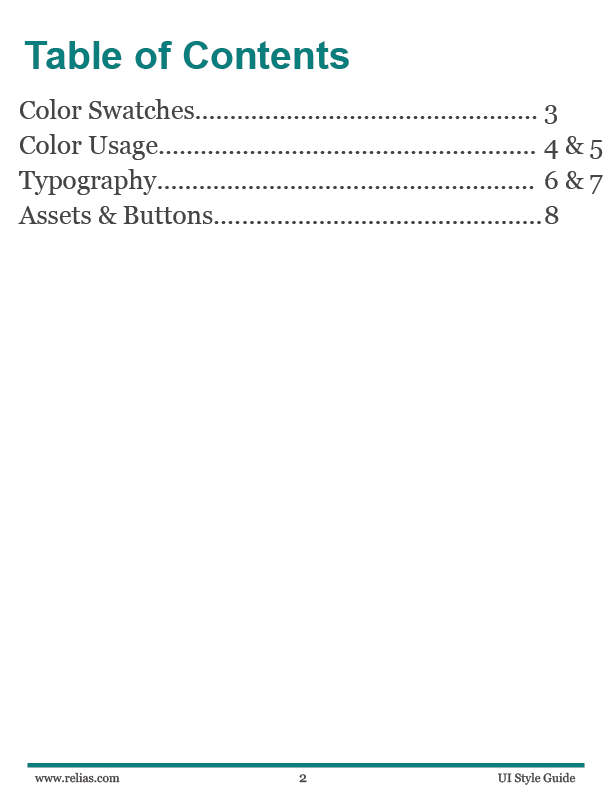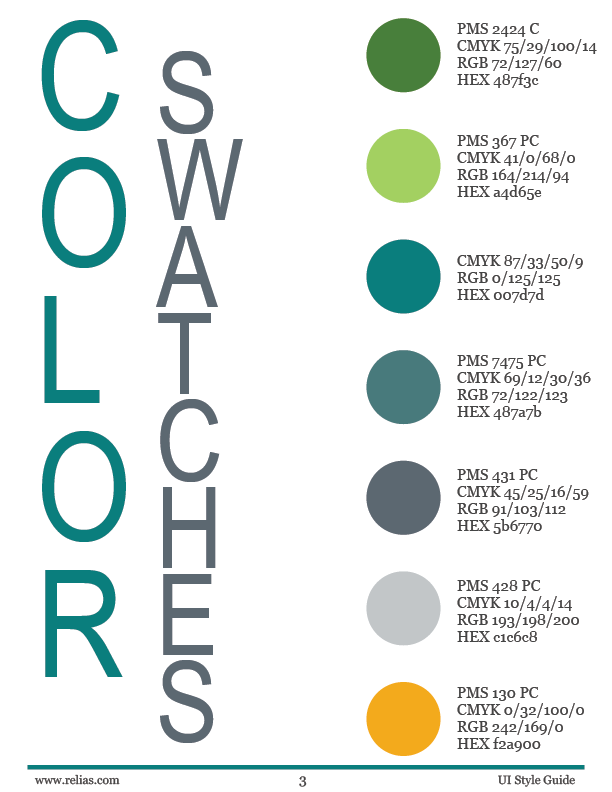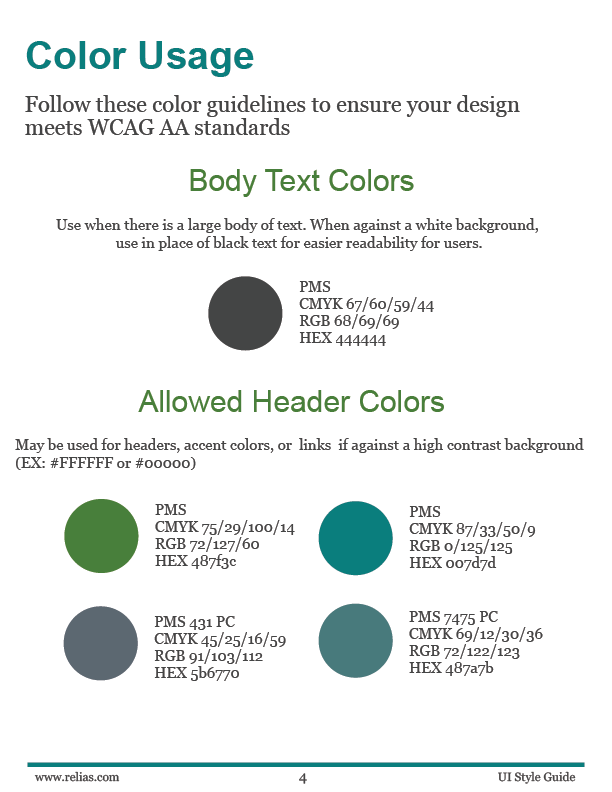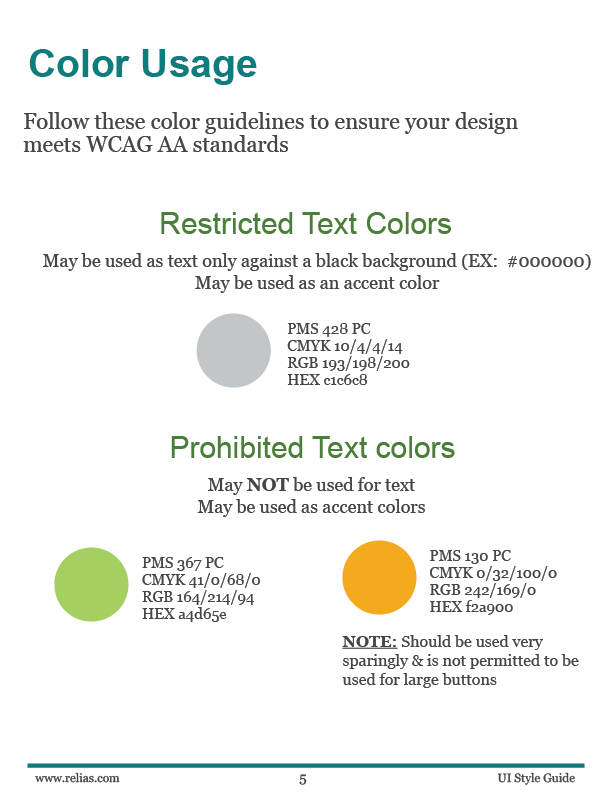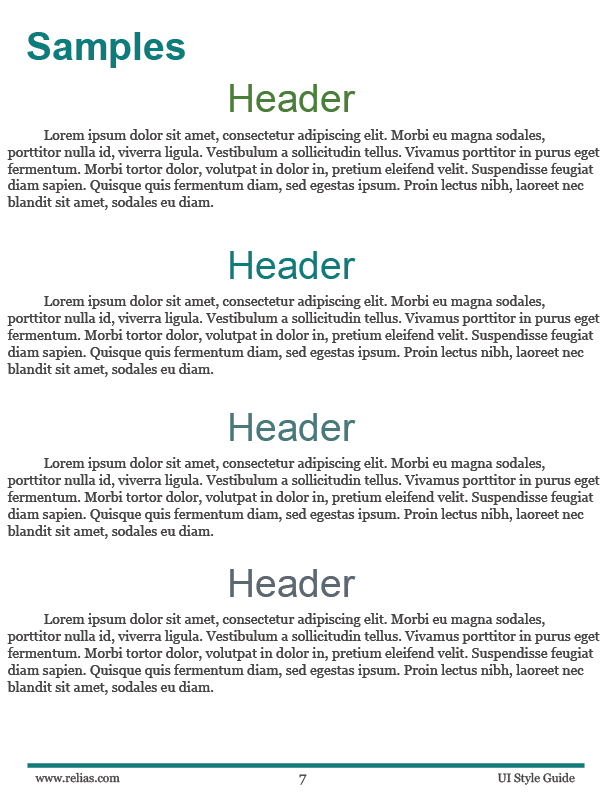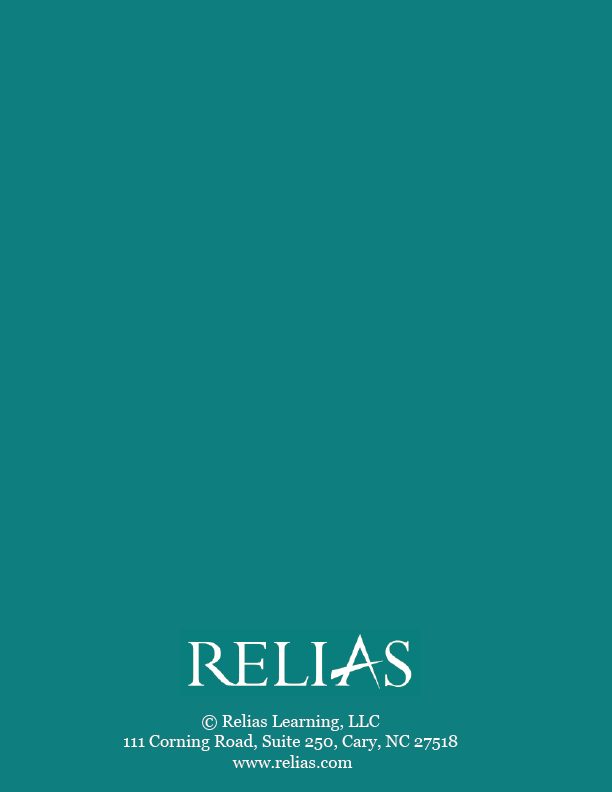 I was able to work with Associate UX designer, Leonard Rowe, in conducting user interviews. I was responsible for writing interview questions, scheduling interviews, leading the user interview, compiling interview notes, and evaluating interview data for possible findings. Leonard served as my mentor and helped with follow-up questions during the interviews. 
The Pre-Prepared Questions
I broke up sixteen pre-prepared questions into three categories: Overall Tech Habits, Job-Specific, and Relias-Specific.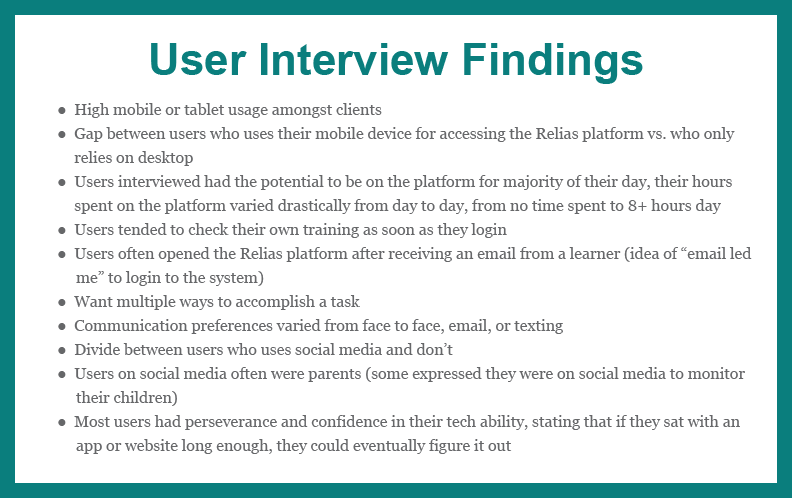 Based on the user interview findings, these are my interface design suggestions: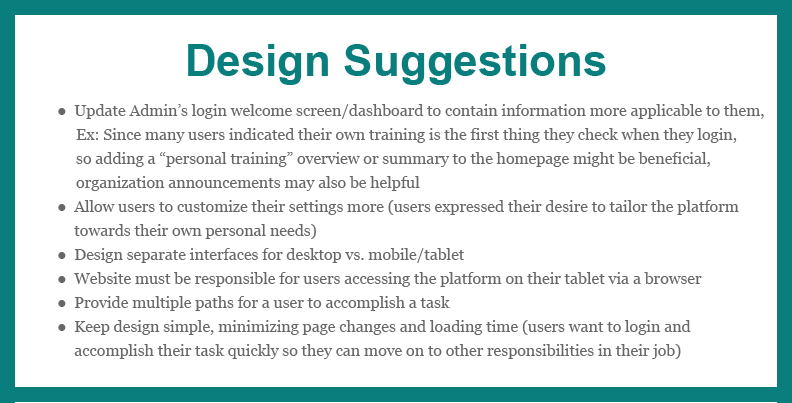 Through this process, I learned a lot about the challenges in gaining contact with users. While more user interviews and research would need to be conducted to establish strong personas, I was able to make a"lean persona" based on the findings from my own user interviews, as well as user feedback knowledge from Product Owners and user assumptions from other members of the UX team. In order to establish complete user personas, these "lean personas" would need to be validated with further research and additionally split into numerous personas. In the last few remaining weeks of my internship, I was able to work with a "persona sub-team" that committed to furthering the user persona research after my internship ended.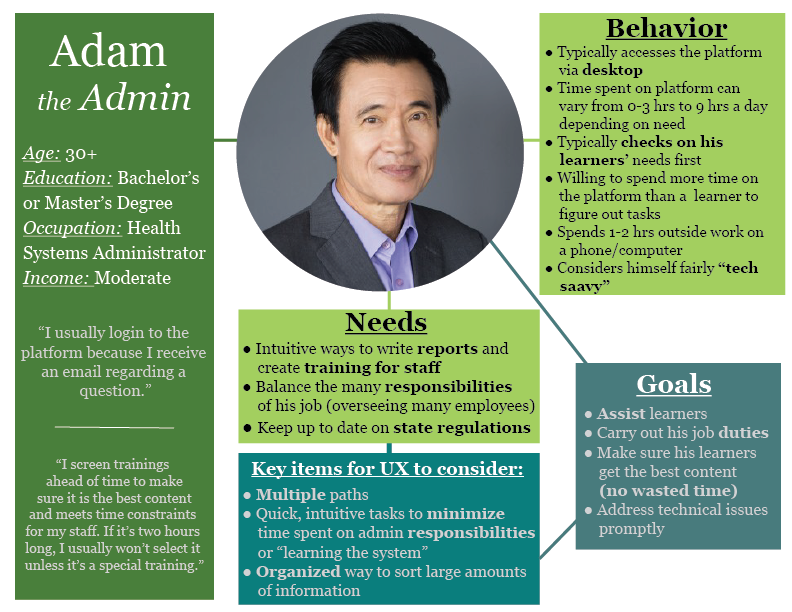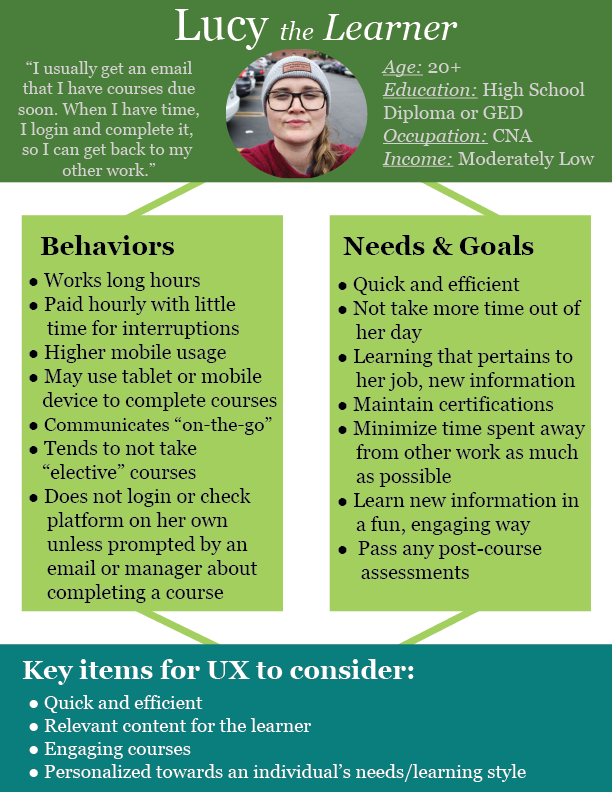 Overall, I learned a lot during my internship at Relias. Before interning with Relias, I had no familiarity with working in an Agile corporate environment. Through attending a team off-site, participating in a presentation to the Product Leadership Team proposing a new Agile UX workflow, and meeting with product owners, product managers, client care workers, and directors of engineering, I learned a lot about the agile work process, different job roles, and department interactions at Relias. Additionally, I realized my passion and enjoyment for user interviews and persona development. 
Thank you to the entire platform team I worked with-- Tom Mirc, Will Pickering, Leonard Rowe, Bethany Stayer, Holly Reitmeier, Dwight Mouton, Eric Bryant, and PJ Lewis. 
Special shout out to my awesome manager, Tom Mirc, for teaching me about the business-side to UX. Thank you for your wisdom, constant encouragement, and for pushing me out of my comfort zone, allowing me to grow and achieve more. 
 Huge thanks to UX Designers, Will Pickering and Leonard Rowe, for taking me under your wings and allowing me to dive deeper into my UX education. Thank you for sharing your knowledge, incorporating me into big projects, and always providing helpful feedback.